Digital Multimeter, MECO DT9205A
Auto-Ranging Digital Electronic Clamp Meter Measuring Instrument AC Voltage Detector Portable Volt Test Meter
In the top left corner is the power button. In the center is the selector switch to choose the unit that you want to measure. LCD display: 3 "
We moved to a new home with an unfinished basement and this meter has come in handy with the to check if an outlet had power or if my electrical unit was not working. It is a lot easier to check (Please, always practice safety) if that breaker you opened actually turned off the power so that you don't get shocked, grabbing some wires.
I am not a trained electrician but this unit is easy enough to use for that around the house maintenance.
This multi-meter works very well and I am very pleased with it and thankful I bought it having an opportunity to both use it and review it for you. The set up was quick and easy but best of all, extremely accurate.
Pros
Easy to use and comes with well written instructions
3" LCD display, great for an older set of eyes
4 connections-common (for the black lead) and Volt/resistance, milli amp, and 20 Amp
the packaging kept it secure so not to become damaged
weight is less than 10 pounds, and helps when having to carry the unit around while working
backlit for times you are in a dimly lit area or no lights at all auto shut off to prevent discharge
Use for checking fuses for vehicles to ensure they aren't defective
Used to verify whether a halogen bulb is good
Cons
The auto-shut off though timed to avoid the battery from running down, should be longer
https://www.amazon.com/Multimeter-MECO-Electronic-Measuring-Instrument/dp/B06XQGTMX8/ref=sr_1_1?keywords=Digital+Multimeter%2C+MECO+DT9205A+Auto-Ranging+Digital+Electronic+Clamp+Meter+Measuring+Instrument+AC+Voltage+Detector+Portable+Volt+Test+Meter&qid=1571078540&sr=8-1
Heavy Duty Playpen for Indoor and Outdoor Use
by Pet Trex
https://www.amazon.com/gp/product/B00F97RLCY/ref=ppx_yo_dt_b_asin_title_o03_s00?ie=UTF8&psc=1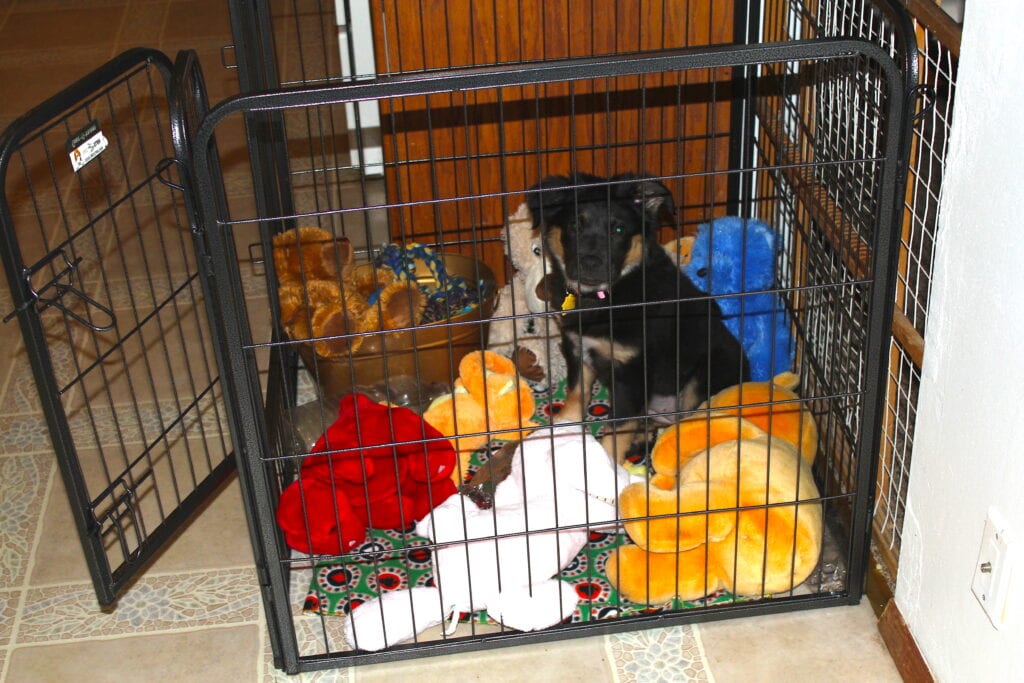 Maggie free to come and go
This gate system is a lifesaver. We bought this once in 2014 when Maggie was a puppy. We bought two, so we can use them inside or out. It kept her safe, allowed us to turn our back on a puppy who loved to chew up everything that would fit in her mouth while giving her a feeling of security in her own space with her blanket and toys.
We moved in 2017 and left our two units behind except a small section. Now, in 2019, we found another need for such a system. Maggie was severely injured and tore her knee apart. Sadly she may require surgery for a knee replacement, and she will need to heal in protective surroundings for several weeks, so we just took delivery on our third system. The gate system is large enough to allow us to be with her while keeping her safe. We bought two cloth playpens before this unit, and though cute, it was destroyed in no time. The zipper was inside, so it was chewed apart within fifteen minutes. The manufacturer recommends this system for dogs weighing up to 25 pounds or less. Maggie, now almost six years old, weighs more than 60 pounds, but not aggressive on anything, so we are not concerned she will try to escape or shove it over. However, for the safety of your pet, I recommend you follow the manufacturer's instructions.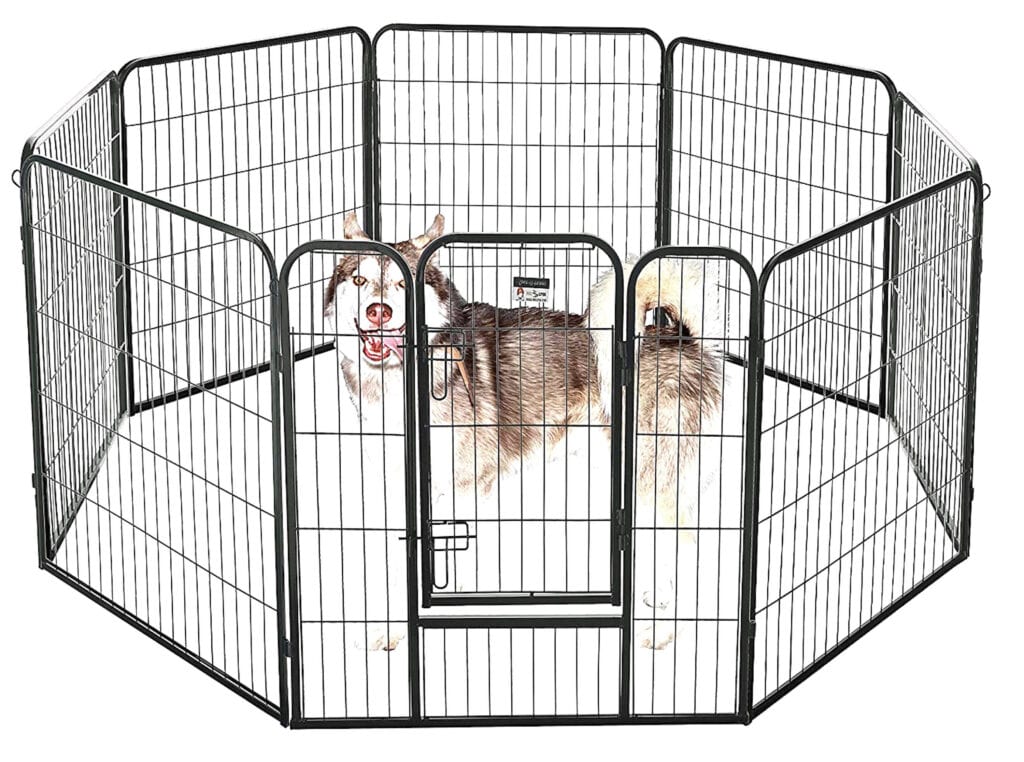 Here are my pros and cons about this system.
Pros:
Most important: Keeps your pets safe
Your chewer can't chew it up
Ability to run length-wise and create a rectangular enclosure-we used ours against a wall.
The gate allows easy access
Assembles in minutes
Break down and portable
Large enough for toys, blankets and food/water dish
Heavy-duty and sturdy
Adjustable to whatever size you need
Open at the top so not to make your furry family member feel confined
Made of a heavy gauge metal, includes eight panels 8.5 Hx 8.5 W, and a doggie door
Attractive with its black powder coating finish
Can be configured in several ways
Fair price
Great Customer Service
Cons:
To be straight up, we have read some reviews with complaints, but we have owned three now and never found one thing to detour us from recommending this system to anyone. Our sweet Maggie was a hellion as a puppy, but she slept like an angel inside this pen. Every part was with our order, assembled quickly, held up well, and portable to take anywhere. I'm sorry, but as a reviewer, I tried to find anything negative to report, but there was none. I have no cons or complaints to make. Finding no negatives is rare for any product, but it is so with this pen.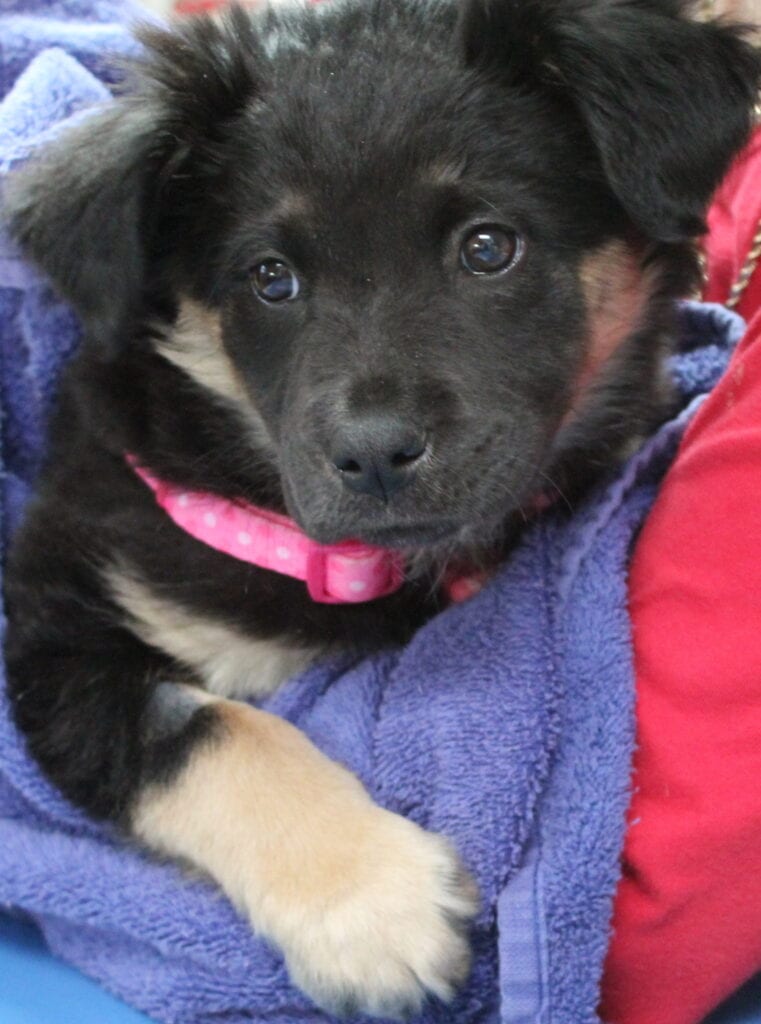 I rate this playpen system a 5 Star and recommend it to anyone using it how it is suggested by the manufacturer.
Buy at Link below.
https://www.amazon.com/gp/product/B00F97RLCY/ref=ppx_yo_dt_b_asin_title_o03_s00?ie=UTF8&psc=1